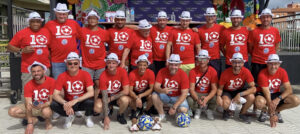 The Festival Tee Shirt is available for all players and included in the registering Fee.
If you need some extra Tee Shirts, the extra cost will be then of 12 € per Tee Shirt and we organize the delivery if you require it.
Teams registering later than 21st of April are unlikely to receive their Tee Shirt during the Festival.
We also have on sales the official FOOTBALL SHIRT and BALL of the Festival :
Shirt Price = 28 € / Ball Price = 24 €